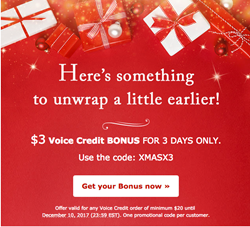 KeepCalling Christmas offer brings longer international calls
ATLANTA December 08, 2017
It's the most wonderful time of the year… To make the holiday season even longer, KeepCalling.com offers a Christmas gift to unwrap a little earlier: $3 bonus for all Voice Credit orders above $20 or $2 bonus for all Voice Credit orders above $15. The offer is valid starting December 8 until December 10.
KeepCalling offer addresses immigrant communities. The Voice Credit bonus can be used to call internationally, either the family and friends still living back home, or friends living in other corners of the world. Christmas being an opportunity to bring people closer together, the international calls are a great solution to do that even when people live miles away from each other. Hearing a loved one's voice may be a great Christmas gift.
In order to benefit from the offer, customers who place an order above $15 need to use the coupon code XMAS2, to get the $2 bonus and those who place an order above $20 need to use the coupon code XMAS3, to get the $3 bonus.
Voice Credit on KeepCalling.com works like the most economical calling card, with the exception that credit is purchased online, in seconds, without the hassle of going to the store, staying in a queue or else. The balance never expires and can be used to call in 2 different ways:
KeepCalling app is free to install on any Android or iOS device.
Access numbers are local numbers that allow one to call outside the country without using any data (WiFi, 3G or 4G). This option gives one more freedom to walk and talk, while experiencing the best quality possible on international calls.
Besides Voice Credit, KeepCalling.com makes available long distance mobile credit transfers called Mobile Recharges that are instant and make great gifts or supportive gestures. Most KeepCalling.com fans are expats, and the website gives them the opportunity to help people back home in seconds by providing cellular credit right on their devices, no matter the distance apart.
But many other customers are American, Canadian or Australian residents recharging their own cellular phones online, for the same reasons: easiness and instant processing.
Expats on KeepCalling.com also use Virtual Numbers. That means they live in the USA for example, but own a number in Colombia, so that their family in Colombia can call them as much as they need to without any roaming costs.
Existing customers who left their reviews on specialised platforms like Trustpilot.com, point out certain strong aspects that make KeepCalling.com stand out on the global market:
Best quality-price ratio on the market.
Everyone benefits of free calling features.
Payment is highly secure; the website bears the label "Verified & Secured" thanks to its strong security system.
Payment is accepted in all currencies.
Offers and bonuses are launched regularly for those who follow KeepCalling.com on Facebook.
KeepCalling.com is a website serving expats, travelers and USA, Canada and Australia residents who need long distance telecom services. It is a brand of KeepCalling, a global telecommunications company registered in 2002 in USA, who launched International Homesickness Day for the first time in history in 2016. Presently, KeepCalling provides its services to hundreds of thousands of consumers , with a focus on customer satisfaction. KeepCalling was listed by Inc 5000 as one of the fastest growing companies in the USA for 5 consecutive years.
Powered by WPeMatico