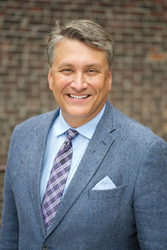 Now that we're integrated and rebranded as TPx, we're a $750 million company with an incredible product set, resources and reach – and everyone on our team genuinely values doing business with agent partners.
LOS ANGELES (PRESS RELEASE JET) October 24, 2017
TPx, the premier managed services carrier, has promoted Carl Moore to director of national channel development.
Moore comes to his new post following TPx's 2016 acquisition of DSCI, where he was vice president of sales channel for the East Coast. Prior to that he was a co-founder of Thinking Phone Networks, which is now Fuse. Moore is an accomplished enterprise technology sales strategist channel sales leader. He also has deep experience with delivering unified communications-as-a-service (UCaaS) offerings to the partner community and enterprises.
The promotion sets up Moore as TPx's East Coast channel leader and as a counterpart to Los Angeles-based Hilary Gadda, who was recently promoted to director of national channel development covering the West Coast.
Like Gadda, Moore will report to Jim Delis, senior vice president of national channel development, who joined TPx in May to oversee the company's aggressive channel investments and acceleration of its national presence as the nation's premier managed services carrier.
TPx is in the process of structuring a national channel sales organization and assembling some of the industry's best and brightest to lead the charge, hiring numerous channel managers and other personnel to support the channel in the field and assist agent partners with selling unified communications solutions, managed services and managed security services. Concurrently, TPx realigned its service provisioning organization to create an exclusive team dedicated to processing service orders, installations and escalations for TPx's agent partners and their clients nationwide.
"We're building a national channel sales structure and team second to none, and Carl will play a key role in it," said Delis. "Throughout his career, he has been a multimillion-dollar producer, growing revenue for startups and well-established companies. He has exceptionally strong relationships with national and regional master agencies across the country and, like Hilary Gadda, he is determined to make TPx the company of preference among agents and the easiest to do business with."
TPx now has newly added channel managers across the country, bringing the total to 24 and plans to hire at least another four on the East Coast.
"We're building a team of 30-plus channel managers with five quarterbacks," said Moore. "There were pockets of the country where we didn't have a presence. Soon we'll be everywhere, and we'll be bringing on the last few master agents who aren't yet working with us to join the party. Jim, Hilary and I will be formulating the structure and strategy to scale this expansion from both the inside out and the outside in, developing a truly comprehensive national channel program." 
Moore adds that managed services, desktop management and security services are all very much pertinent to business customers today – and TPx is bringing them to the table along with tactical day-to-day support and feet on the street to help agents sell the services and provide customer-facing support as well.
"Today the channel doesn't breathe without talking about cloud," Moore said. "If you're just providing circuits you're not going to talk about security, right? Once prospective master agents learn what TPx, as a managed services carrier, can do to fill in those kinds of gaps downstream for their subagents, we generally move to onboarding very fast.
"In TelePacific and DCSI, we had two companies that had great reputations in the channel. Both were wildly successful. Now that we're integrated and rebranded as TPx, we're a $750 million company with an incredible product set, resources and reach – and everyone on our team genuinely values doing business with agent partners. It won't be long before we're working with every national and regional master agency in the country."
About TPx Communications
TPx Communications is a new kind of managed services provider – the premier national managed services carrier. Formed from the merger of TelePacific and DSCI, TPx is redefining the way enterprises grow, compete and communicate. TPx's Unified Communications, Managed IT services, continuity and connectivity solutions all work together to "reach a higher state of connectedness" – with customers, employees, clients, suppliers, locations, applications and more. We can provide guaranteed performance wherever there's a broadband connection, erasing the limitations of geography, incumbent providers and capital expenditure. Headquartered in Los Angeles, with major locations across the country, TPx has delivered more than 15 years of consecutive quarter-over-quarter growth, driven by a DNA of obsessive customer service and word-of-mouth referral. For more information, go to http://www.tpx.com.
Powered by WPeMatico