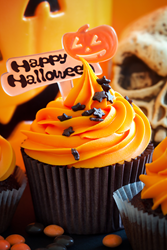 I didn't want to deprive my children of the sweet pleasures in life. After all, delicious foods and sweets are a vital part of everyone's childhood memories.
LOS ANGELES (PRESS RELEASE JET) October 30, 2017
Halloween is coming and with all the scary statistics about obesity in children and the health risks that comes with it, parents don't need to see any ghosts to feel pale and shaky.
In Illinois, Indiana and Iowa, 10 – 17-year-olds have an obesity rate of around 30% according to the State of Obesity (stateofobesity.org).
As we all know, obesity can lead to serious health issues like diabetes, hypertension and heart disease. One of the main causes for obesity is linked to the high amounts of sugar that Americans consume daily.
This issue makes traditional holidays like Halloween a challenge. How can families hang on to fun traditions like indulging in sweet treats at Halloween without contributing to the problem?
Foods 2.0 CEO Trong Nguyen, father of four, faced a similar problem. That was when he decided to find a solution for his family and other American families too: "I didn't want to deprive my children of the sweet pleasures in life," he shares. "After all, delicious foods and sweets are a vital part of everyone's childhood memories – homemade cookies on the weekends, pies and hot cocoa during holidays and of course, birthday cakes. I just needed to find a way to make these things healthier without sacrificing great taste."
His eureka moment came when he realized that nature had already provided the solution: when we have fruits and vegetables, the fiber in the fruit helps us break down the sugar and slow the absorption into the body. Thus, he created a product that emulated nature: Sugar 2.0 replaces half the sugar content with a naturally sweet soluble fiber.
"Chances are you already know that eating too much sugar isn't good for you. Yet you're probably still overdoing it: Americans average about 20 tablespoons of added sugars per day, compared to the recommended 6 tablespoons for women and 9 tablespoons for men. (That doesn't include sugar found naturally in foods like fruits and milk)" writes Locke Hughes in his article How Does Too Much Sugar Affect Your Body? on WebMD.com. Huges goes on to describe the many ways in which excessive sugar intake affects almost every aspect of our health – obesity is just the tip of the iceberg, the most visible of all the negative effects of eating too much of the sweet stuff.
"Home baking is a great solution I have found to reducing the amount of sugar my children eat without ever sacrificing taste. I can control exactly what goes into my cookies, pies and cakes. That way they can be healthy and delicious all at once," says Angie Gouchenour, mother of two and healthy baker and blogger of Indulge Your Inner Foodie.
Sources:
https://www.webmd.com/diet/features/how-sugar-affects-your-body
About Foods 2.0, LLC.
Foods 2.0 began with one father's desire to decrease his children's sugar intake and replace it with a solution they'd love. Founded in 2015, Southern California-based Foods 2.0 strives to develop "clean label" foods using minimal, non-GMO ingredients with no byproducts or fillers. The company's mission is to reduce or eliminate added sugar in everyday food items. Its products, Sugar 2.0 and Sugar 2.0 + Probiotics, are currently available in the baking aisle in 2,400 stores across the U.S.
Media Director (for media requests and general inquiries)
Cindy Thai | cindy.thai(at)foods2pt0(dot)com
About Jewel Osco
Jewel began as a group of door-to-door salesmen selling tea and coffee from the back of horse-drawn wagons. Founded in 1899 by Frank Ross and his brother-in-law Frank Skiff, the company started with $700, a rented horse, and a secondhand wagon. In time, hundreds of routes were added across the nation and the Jewel Route man became a familiar, welcomed sight. Today, Jewel-Osco operates 187 stores throughout the Chicagoland area, Indiana and Iowa, which is part of a 2,200+ store operation that employs approximately 265,000 people nationwide.
Powered by WPeMatico