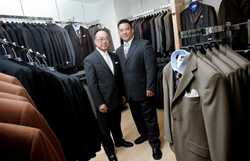 LOS ANGELES December 06, 2017
Jimmy Au's For Men 5'8" and Under, Inc. is the nation's leader and pioneer in the design and development of short men's clothing. Founded in 1961 as a custom suit business operating out of a trunk of a car in Hawaii, Jimmy Au's has now evolved into the largest short men's clothing stored in the nation, and is still the first and only designer clothing store exclusively for short men.
Alan, Jimmy's son and partner in the company, seeks to expand their available selection for casual wear for shorter men. "We're selling a lot more casual wear today because 20 years ago, we did not even have a casual wear section to begin with," Alan says. "We did not have manufacturers making the sizes we needed, and in that situation I realized I had to do something and look for the right resources to produce what we wanted to design and develop in the best casual wear product for my customers."
Now, the store is divided into 3 sections: Tailored Clothing, Sportswear, and Furnishings/Knitwear. Alan is very happy and satisfied with their expanding selection of casual wear in their sportswear collection, and states how much business and customer satisfaction he has seen increase as a result. "Yesterday, someone came in to buy a suit from us," Alan remembers. "This morning, he came back in to buy some more things. He was wearing jeans that didn't really fit him properly. So I suggested he try on one of our jeans – he did and they fit perfectly!"
The new expansion of casual wear includes more premium denim jeans, luxury chinos, t-shirts, and henleys along with the introduction of new casual knit and woven jackets to be launched in Spring 2018.
"Our expanded casual wear selection really gives our customers a variety to choose for any occasion; whether its out on the town or just relaxing at home."
Jimmy Au's online store can be accessed at: http://www.jimmyaus.com/
Jimmy Au's walk-in store can be located at:
14755 Ventura Blvd., Suite A
Sherman Oaks, CA 91403
Powered by WPeMatico