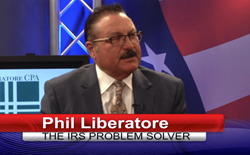 Los Angeles, CA January 15, 2018
Phil Liberatore and his team have long been a trusted team for clients to get help navigating both their most routine and most complex financial challenges. Liberatore CPA's full range of services and solutions includes general accounting, tax strategy/tax preparation, and financial management for our clients throughout Southern California. Their experienced team are some of the most knowledgeable and credentialed professionals in the industry.
"Another great year at Liberatore, CPA. Phil has prepared my returns for 20 years, always with great results. I have referred many people here over the years and all of them have been very happy and returned in the future! Phil and his entire staff are super friendly and very accommodating." Jason Konsteen – Garden Grove, CA
"It just never ceases to amaze me on how this company is friendly, trustworthy and competent with my personal information. Phil we love using you for our taxes and will always come back." Earl Johnson – Santa Ana, CA
"Another fanatic outcome this year on my taxes! I thank Phil and his awesome crew of tax specialists. As soon as I walk in the door, I'm greeted with smiles and genuine warm attitudes. The atmosphere in that office is joyous and it's intoxicating. Not only do I feel relaxed walking in, I leave with a smile because I know they did the best they could for me. I wish I could skywrite my thanks to Phil and staff. Thanks for another stress-free tax experience." Jennifer Smith – Westminster, CA
The "Best of Los Angeles Award" community was formed three years ago and consists of over 3,700 professional members living and working in Southern California. It celebrates the best people, places and things in Los Angeles with a slogan "No Ads. No B.S. Only the Best."
"The mission of the community is to celebrate the best of Los Angeles, and allow its community members to connect with other members who share the highest standards of quality and integrity," said DeRose.
"At Liberatore CPA, we strive for only the best service for our clients. I am honored to receive this award and be recognized as 'The Best I.R.S. Problem Solver in Los Angeles,'" says Liberatore.
Powered by WPeMatico